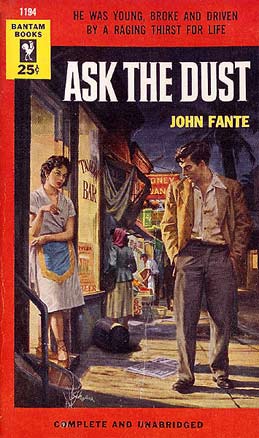 Far before J.D. Salinger's Catcher in the Rye and John Kennedy Toole's A Confederacy of Dunces, there was an author writing about young misfits with flair and passion: John Fante.
In the 1930s Fante began a series of novels starring Arturo Bandini, a delusional, obnoxious, socially incompetent and penniless wannabe writer who is, I am afraid to say, someone I relate far too closely to. Fante's first novel, The Road to Los Angeles, was rejected and unpublished until after his death in 1985. The second, Wait Until Spring, Bandini (1938), gained critical praise but it was his third – Ask the Dust (1939) – that was a work of genius.
Far ahead of its time, Ask the Dust didn't shake the literary world on its release and went out of publication. If not for a young Charles Bukowski, who stumbled upon it in a public library after running out of drinking money, it may have remained that way.
Bukowski's writing became heavily influenced by Fante – I'd argue it borders on emulation – and in his later years Bukowski repaid the debt by getting his publisher to reprint Ask the Dust. These days it's considered a classic.
Ask the Dust follows Bandini as he struggles to pay the rent in LA and falls for an unstable waitress who is in love with someone else. A semi-autobiographical tale of the lowlife, it was written in a no-bullshit way that somehow managed to weave poetry into the mix.
Most of its sentences are muscular and stripped down – and yet just as Bandini occasionally breaks his macho act when emotion overwhelms him, so the copy sometimes flirts with whimsy before coming back down to earth.
My favourite line is from the first chapter:
Los Angeles, give me some of you! Los Angeles come to me the way I came to you, my feet over your streets, you pretty town I loved you so much, you sad flower in the sand, you pretty town.
Many authors write about the hardships of being broke in a big city, but only Fante could turn it into a case of unrequited love.
As a delusional wannabe writer myself, I can't help but admire that.