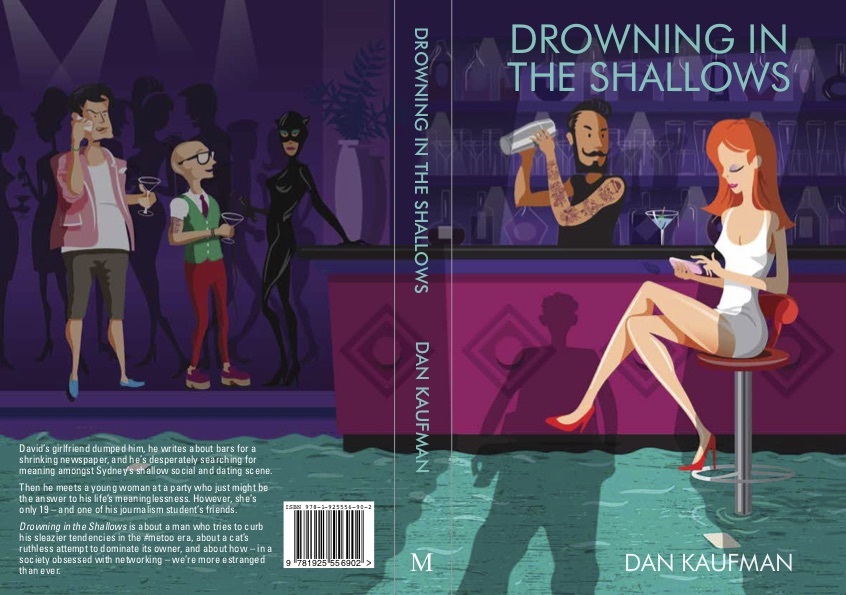 David's journalism students petrify him. Then again, so does his cat.
His girlfriend broke up with him, he writes about bars for a dying newspaper that's abandoned news reporting for lifestyle articles, and he's desperately searching for meaning amongst the backdrop of Sydney's shallow social scene.
Then he meets a young woman who just might be the answer. The only problem is, she's a friend of one of his students.
Drowning in the Shallows is a comedy about heartache, a coming-of-age tale about a man in his 30s who's only now growing up, a satire of society and a torrid love story about a man and his beloved evil cat.
Interested?
Get your grubby mitts on this literary masterpiece before it sells out in a deluge of demand:
"Kaufman has created that rare thing: a searing social satire – lampooning love, sex, masculinity, fakeness, Gen Z – wrapped around a glimmering, 21st century coming-of-age story about a man and his cat. Grab your martini and strap in for the ride."

Amanda Crawford, director of Periplum
"Laugh out loud funny."

Angie Kelly, ex Sydney Morning Herald and Sun Herald editor (travel, style and entertainment)
"Dan Kaufman's droll, lols-filled chronicle lifts Sydney's velvet ropes and slings them into the harbour."


Mark Broatch, journalist, ex books & culture editor NZ Listener and SundayStar-Times, author Word to the Wise
"If anyone's qualified to write about cats and Sydney nightlife, it's Dan."

Alex Adams, managing editor of Eat, Drink, Play